Gelatine Printing Recipe
Using a baking sheet with sides that measure at least ¾ inch deep, measure how much water you need to fill it at least half an inch in depth. This will determine the amount of water to gelatine.
My tray needs I pint water equivalent to 2 and half cups (American measurements).
2 tablespoons gelatine to 1 cup of water i.e. 5 tablespoons gelatine to 2 and half cups –
Works out at 4 sachets of Dr Oetker Gelatine
First, bring half of the total amount of water to a boil.
Then put the other half of cold water in a bowl, sprinkle in the gelatine and stir to dissolve, then add the hot boiling water. Stir until completely dissolved.
Skim foam and bubbles of the top and pour into your level pan.  Skim the
bubbles of the gelatine again once you have poured it into the pan.  To do this
gently drag paper over the top and guide the bubbles to the edge.
Let gelatine harden and then store in the refrigerator.  Wrap in plastic and it will
keep for a while.
If it degrades as it will during use, wipe it clean, cut it up and heat in a microwave to melt again, finally repeat, skimming of foam and refrigerating stages to reconstitute ready for use, many times.
Method
Use water based printing inks and rollers to ink up the plate smoothly.
Apply any masks, stencils to create an impression and image, nets, lace, threads, leaves, feathers, experiment the possibilities are limitless.
Relief blocks work well; try lino, woodcut, and home-made textured blocks.
Let first colour dry before applying second colour a gradual build-up of transparent and opaque layers works very well as with screen printing. Make sure you dry prints flat between absorbent paper (blotting) and heavy weights, drawing board or books will do.
Ghost prints are particularly interesting to incorporate in an image. Try different effects and have fun.
You will find you produce a large number of prints during a single session, so make sure you have space to let them dry, as you work.
Make sure you clean all relief blocks and materials before finishing and store away printing inks and rollers ready for your next session. Wipe down tables ready for the next class!
NB: Paper cut stencils can be reused if you let them dry and iron them, better still make your stencils out of thin card and impregnate with cooking oil and leave to dry for repeated use. Like using a waxed stencil.
xxxxxxxxxxxxxxxxxxxxxxxxxxxxxxxxxxxxxxxxxxxxxxxxxxxxxxxxxxxxxxxxxxxxxxxxxxxxxxxxxxx
SEW FORTH LETTERS
Would you like to Sew a letter? Knit a letter? Crochet a letter? Glue and Stick a letter?
We have templates for all our SEW FORTH Letters for you to make a 3D letter using any technique you wish.
We will be hanging all these letters up at our exhibition next year all around the room, and around our stand at the November Mill Fayre.
Templates will be available for any letters you wish to do at all of our meetings.
Ask Dorothy and she will guide you in the right direction, have a look at some of the letters that have been finished already.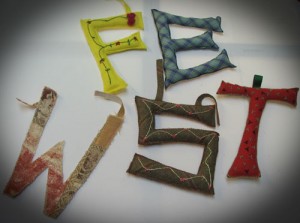 Finished letters above
Templates below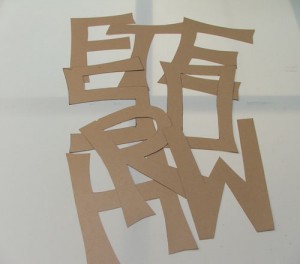 xxxxxxxxxxxxxxxxxxxxxxxxxxxxxxxxxxxxxxxxxxxxxxxx
Thread glorious thread.
Notes from Debbie Renton
Thread weight: the length of yarn it takes to make a given weight therefore the higher the weight number the finer the thread.
The normal weight of yarn that we find is about 40. The thickest thread that will go through a machine needle is a 12wt. Heavier threads can be used by hand,for couching or for doing bobbi work.
Cotton
A natural vegetable fibre.
Mercerising: All cotton these days is mercerized  the thread is treated under controlled tension in a caustic solution. This causes the fibres to swell and makes them more receptive to dyes. Mercerization was originally done to make cotton look more like silk.
Gassing: Cotton is passed at high speed through a gas which burns off the fuzz and again  gives the cotton a little more lustre. Wonderfil cottons are double gassed.
Glazing:  Cotton threads are treated with starches and other chemicals under controlled heat and then polished. This gives the thread a hard finish and a higher sheen.
Cotton is suitable for hand and machine piecing, applique, quilting, and embroidery.
For machine piecing always use the same thread top and bottom.
Cotton comes in several weights, a fine cotton will blend into the fabric and not be too obvious. A heavier cotton, like a 12wt will really stand out.
For machine quilting or embroidery using a 50wt use the same or a finer thread in the bobbin. You can use a cotton or a polyester.
If using a heavier thread like a 12wt use a 40 or 50wt thread in the bobbin and use a topstitch needle.