APRIL 2020 Workshop
Ideas for using your Marbled fabric
Card Making
Isolate a part of your marbling sample and stitch a square the size of your finished piece. This ensures that you don't stitch out with your chosen design.
Choose a part to stitch and just be led by the shapes you created. The hard part is to know when to stop.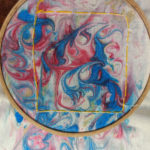 It can either be hand or machined stitched but a stabiliser is required for machining eg stitch n tear is good and for hand stitching it can be put in an embroidery hoop, but I found that as it was so small I could do it without.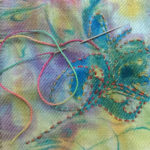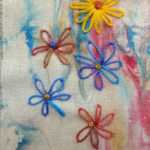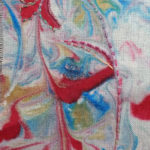 Cut to size and fray the edges for a card without an aperture and stick it down with fabric glue, or whatever you have in the house.
A card with an aperture does not need a frayed edge, but possible just trimmed with pinking shears or ordinary scissors to just larger than the aperture of the card. Stick trimmed piece under the flap of the card and secure.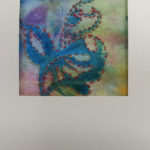 The disposable tablecloth sample just needs to be stuck in place. I cut the edge with pinking shears just to give it a nice edge.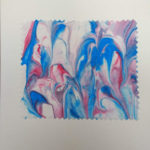 Samples of finished cards below.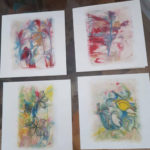 Book Cover
With some of the larger samples I made a book cover but make sure you have enough to cover your chosen book before you start. I would allow 3 times the width of the book which allows for the spine and the back and front flaps and the depth of the book. Be generous as it gets cut to size later.
Unfortunately I did mine in a hurry and there wasn't enough for descent flaps for the book I had.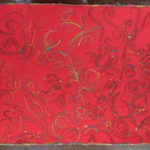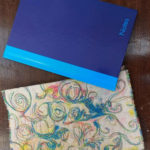 I backed it with felt which made it easier to stitch especially if hand stitching. I stitched it first before cutting to size as the stitching can make it distort and shrink slightly.
Once stitched it can be cut, wrap it around a closed book and fold in the flaps. Pin in place then remove the book.
Firstly stitch the ends of the flaps a satin machine stitch (close zig zag) or blanket stitch for hand then stitch along top and bottom edges catching in the flaps.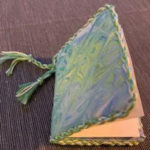 A button and cord can be added to the front to hold it closed.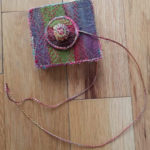 Happy Sewing
Next workshop for you to do at home will be posted the first Saturday in May.
---
.